We still don't know how the Prime Minister intends to 'fix' social care, so being able to evidence current performance is vitally important for the sector. Without this, politicians could point at perceived or actual variability in the system as a reason not to substantially increase funding.
Most people working in the sector have a shared vision of what 'good' adult social care looks like – it involves greater levels of independence and control, so that people can live more fulfilled lives and remain in their homes and communities for longer.
What is less easy to find consensus on is how to measure and evidence the extent to which the sector is currently achieving this. In a complex system such as adult social care, focusing on a group of specific indicators is controversial – can numbers really reflect what is 'good' for any individual person? And can performance metrics understand and represent the importance of local variation?
The sector therefore finds itself in a quandary. There is a desire to measure performance, but also an acknowledgement that the complexity of adult social care can never be fully reflected in any performance analysis.
Given this context, we decided to further refine our module of the IMPOWER INDEX for adult social care. The INDEX uses publicly available data to evaluate council productivity, measured as outcome value per pound spent.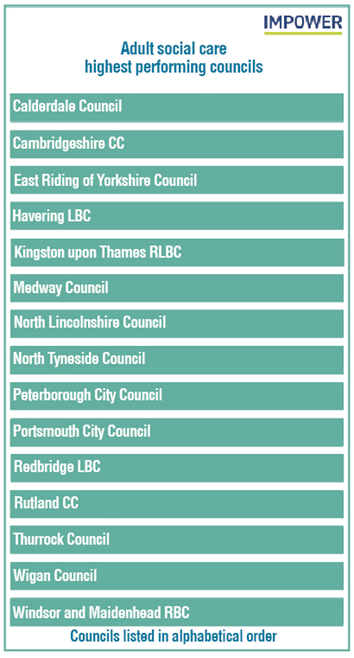 Over recent months we have been fortunate enough to have input from a group of directors of adult social services who share our interest in the debate around productivity. Their input has been invaluable in improving the methodology and selection of indicators used for our analysis, and shaping and validating our findings. Importantly though, the overall framing remains the same: which councils are achieving the highest outcomes for their residents at lowest cost?
Through these discussions it became clear that the sector wanted to better understand the impact it was having in two key areas. Firstly, in terms of people's lives: what is the lived experience of different vulnerable groups, and what outcomes are we achieving for them? Secondly, in terms of prevention: how well is the sector helping people to remain independent and connected within their communities, thereby preventing the need to access formal care services? A key challenge was to identify and agree on the available indicators that could best measure the performance in these areas.
It was also recognised that the sector wanted to better reflect sustained levels of performance as opposed to providing a one-year snapshot. This required the inclusion of financial insights that looked beyond budgeted spend. Our chosen solution was to look at performance across the last three years, and to include a specific indicator on 'financial grip' which penalised councils whose actual spend was out of sync with their budget.
The highest performing councils should all be congratulated. They have all been able to achieve greater than average outcomes from a less than average spend per head. This means that users of social care in their local areas are getting better outcomes at the same time as the council is making best use of public funds. Of them all, Rutland CC performed most strongly and might be seen as a sector leader.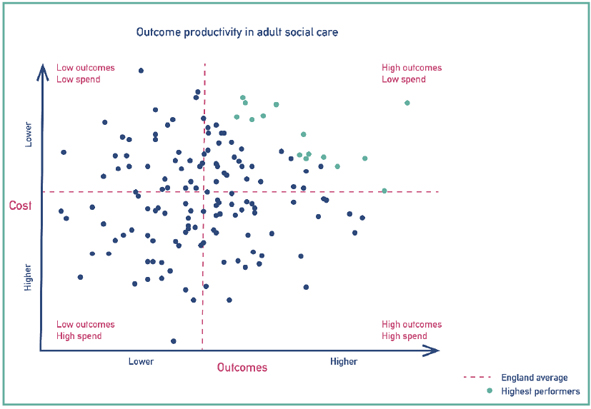 We hope our contribution to the debate around council productivity prompts a wider discussion. James Bullion, executive director of adult social services at Norfolk CC and vice president of ADASS, and Stephen Chandler, corporate director of adult and housing services at Oxfordshire CC, both played an active part in co-producing out latest analysis. To quote Mr Bullion: 'It is essential that our sector has effective measures to demonstrate good performance and value for money, for citizens, practitioners and councillors'.
Mr Chandler told me: 'While there are always limitations to individual metrics, it is critical that councils are able to measure the impact of the support they provide to their citizens. It is also vital councils are able to share their experiences and drive improvement by learning from each other.'
Ralph Cook is a director at IMPOWER Consulting
Note: This article reflects the views of IMPOWER and is not endorsed by any other organisation or individual. We worked with a range of sector leaders to produce our analysis, who provided ideas, support and critical challenge. With thanks to James Bullion (Norfolk CC and vice president of ADASS), Stephen Chandler (Oxfordshire CC), Simon White (Surrey CC), John Jackson (LGA care and health improvement adviser) and various others in the sector for their contributions.
Exclusive: Rutland named strongest performer in adult social care index
comments powered by

Disqus
Budgets and efficiency
ADASS
Adult social care
productivity